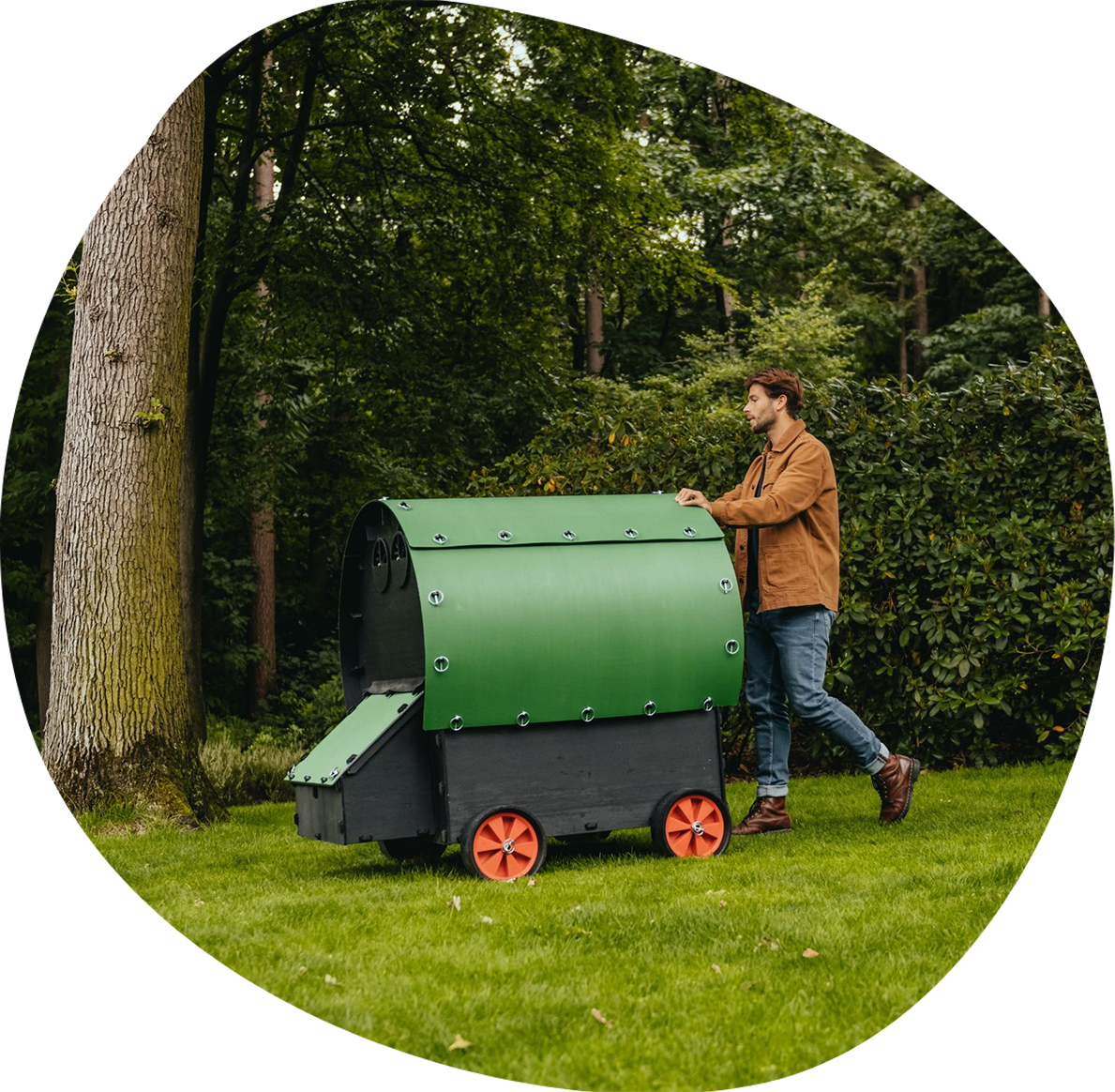 Easy to move
Despite its heavy-duty appearance, the Wagon can be moved effortlessly on its wheels.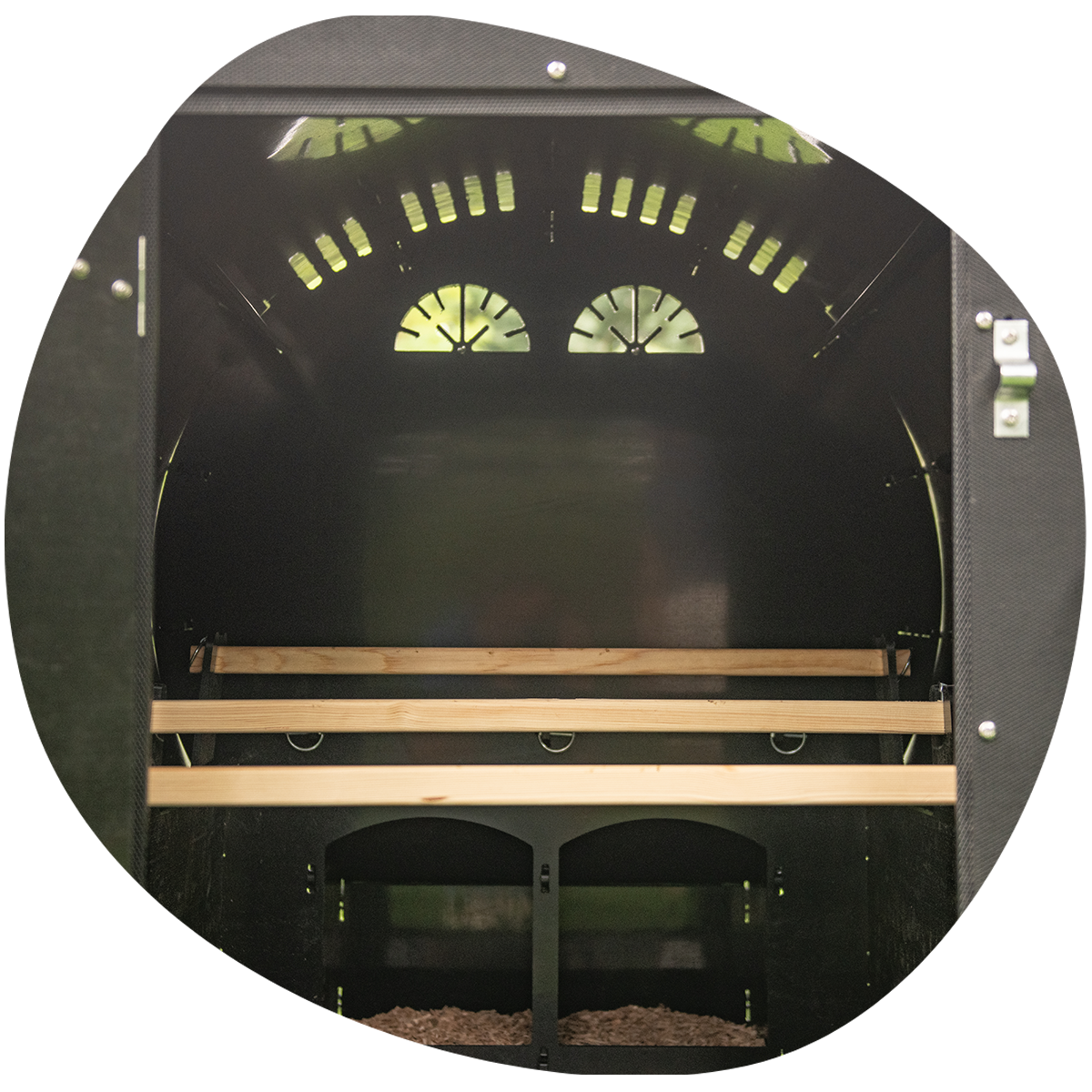 Pecking order
Inside the Wagon is a three-tiered perch system for up to 8 large chickens or 15 bantams. Each of the three perches can be easily removed for any non-perching birds in the flock.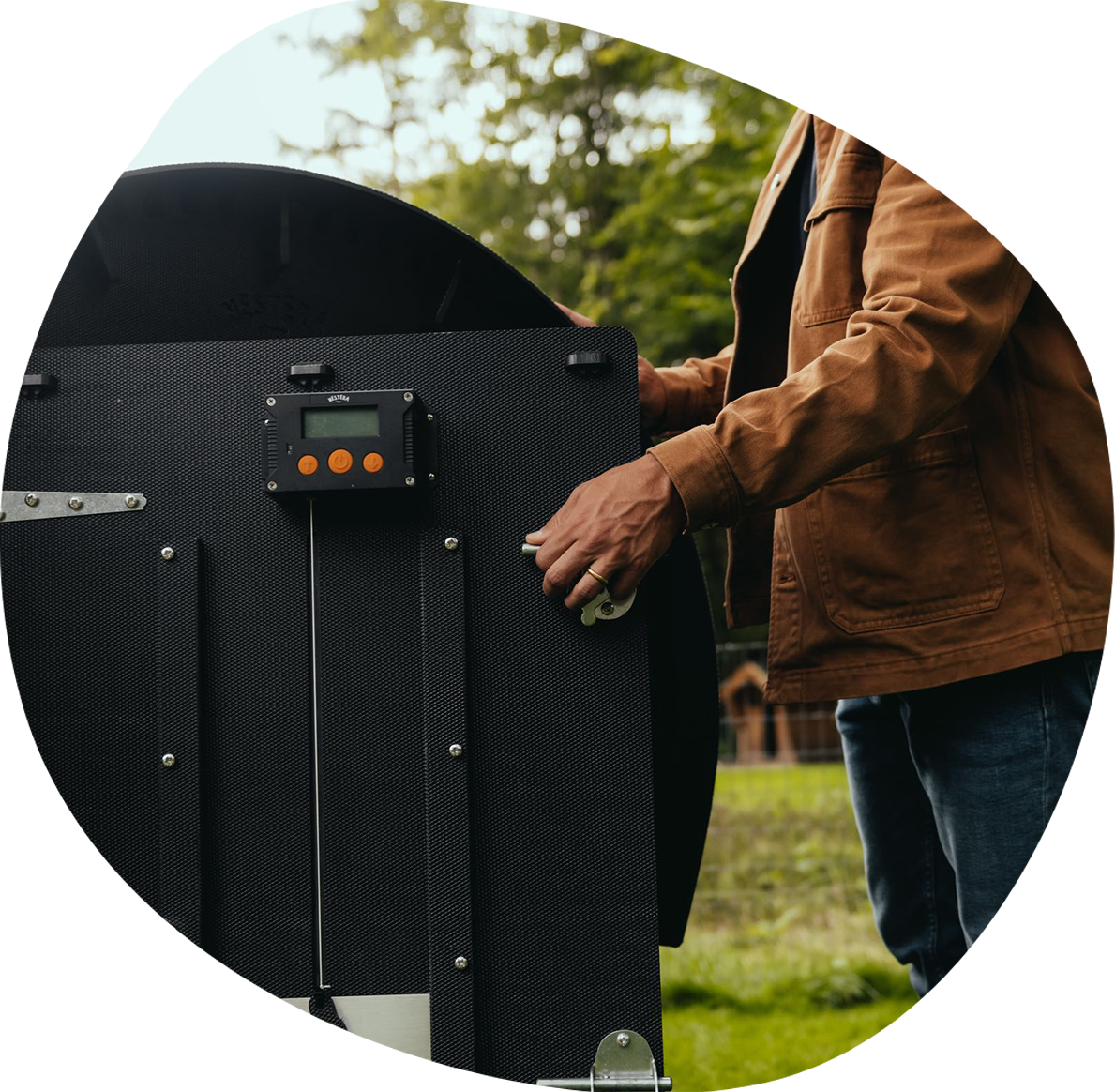 Access & security
The front panel of the Wagon features a large reinforced door to provide easy access for chicken keepers to maintain and clean the coop, while the two heavy-duty stainless steel hasp bolts on the front door keep out any unwanted visitors.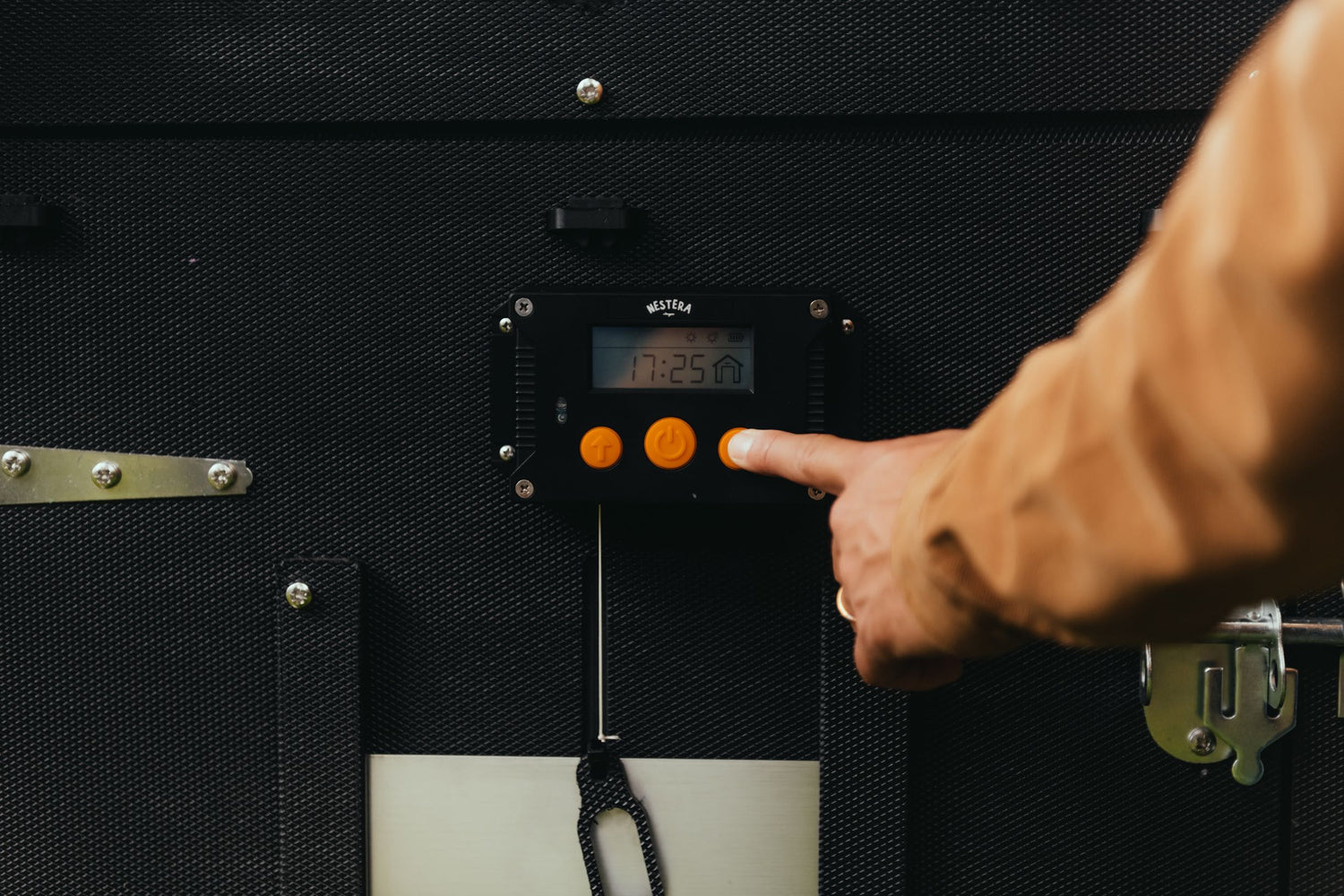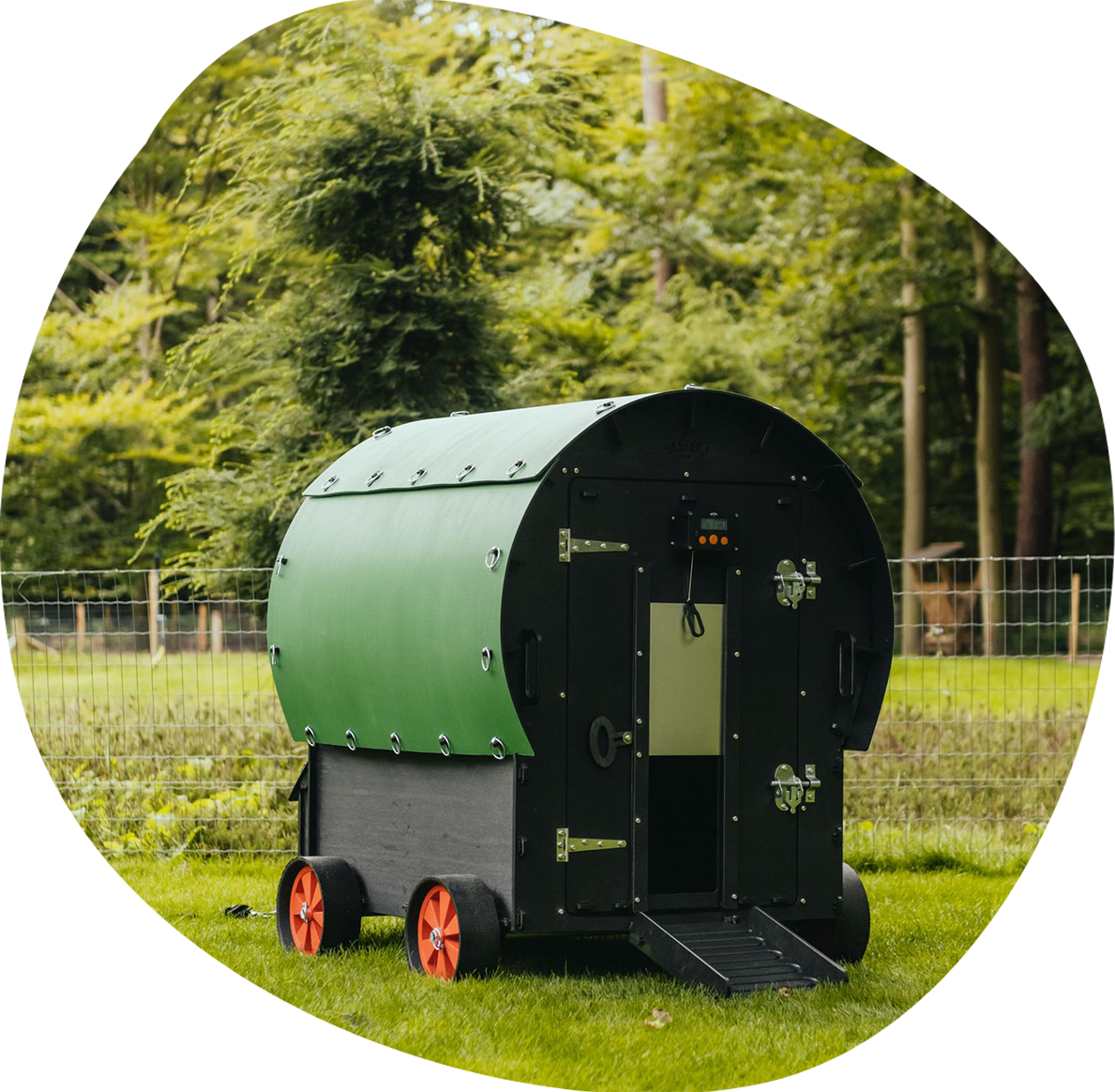 Predator proof
The Wagon features a vertically sliding door for your hens to access the coop, which is compatible with the Nestera Automatic Door Opener.There is a manual slider to hold the door open, or lock it shut.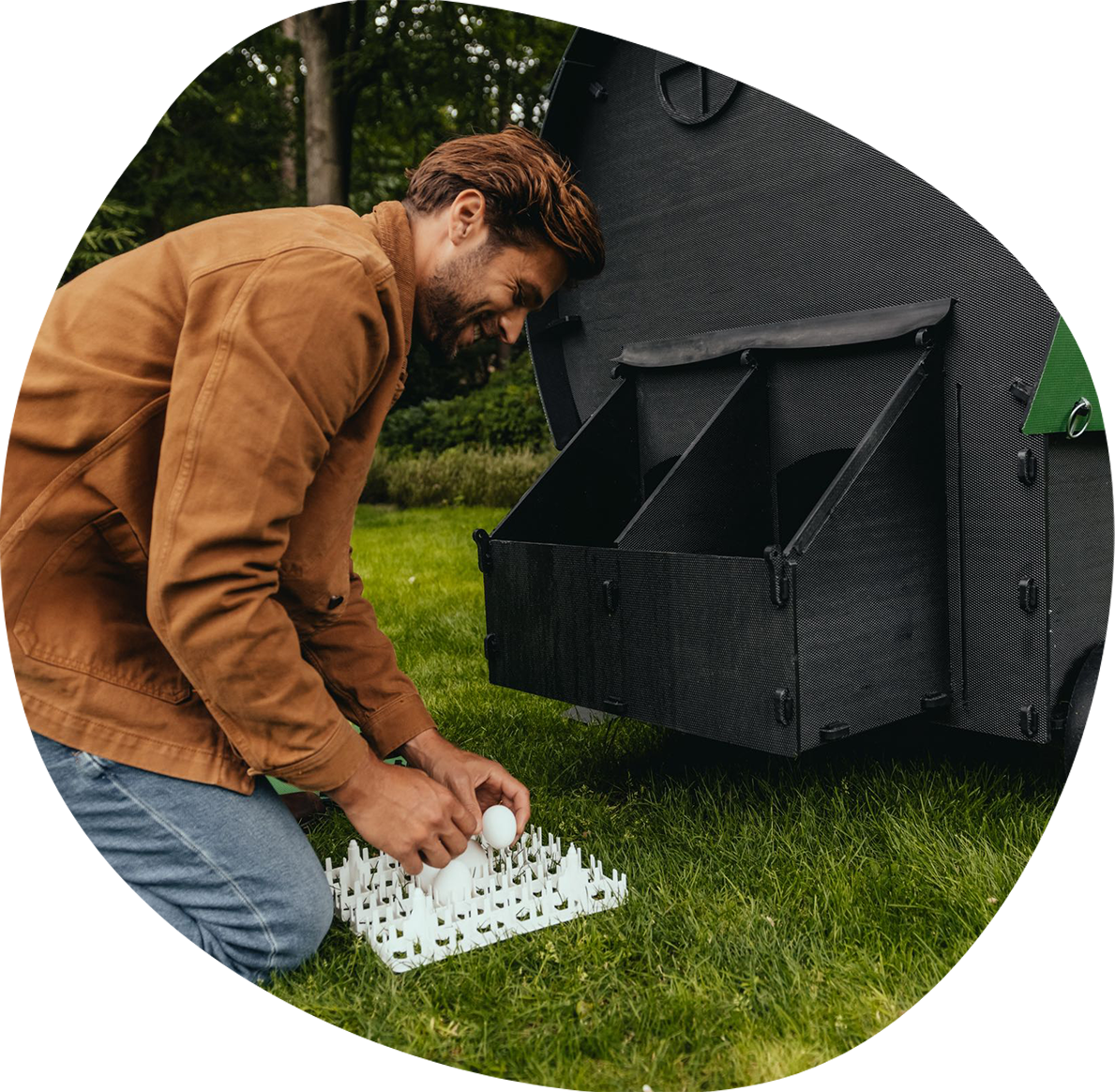 Large Nest boxes
At the rear of the Wagon are two large, individual nest boxes for your hens to lay their eggs in peace, away from the main area of the coop. A hard rubber weatherproof seal above the nest boxes ensures no rain water enters while they are occupied.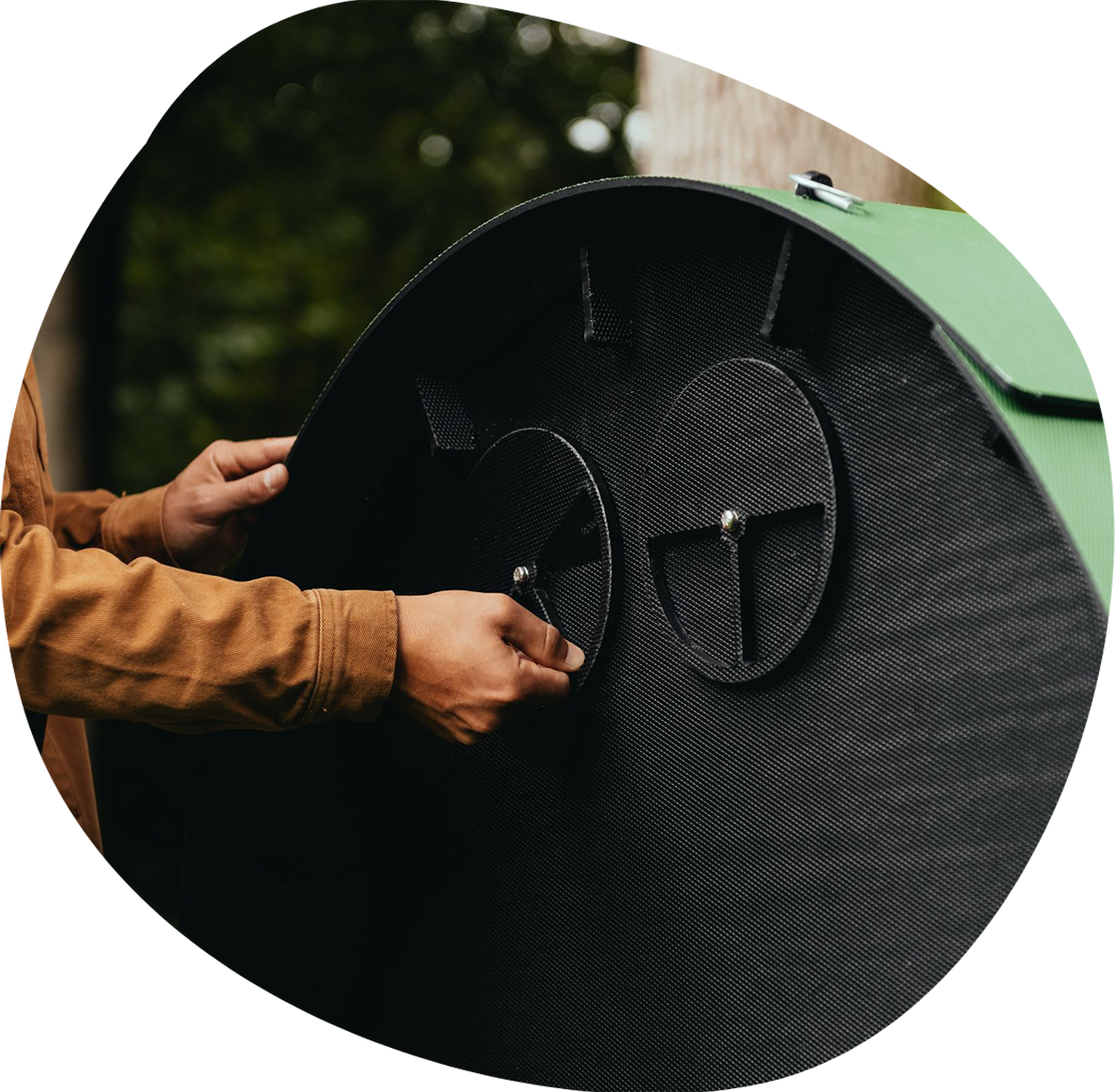 Ventilation
Every Nestera chicken coop includes fully-adjustable ventilation, and the Wagon is no exception; two adjustable vents on the rear panel can be opened or closed to varying degrees depending on the weather.
Unlike the other coops in the range, the Wagon features a series of ventilation ridges hidden under the roofline at the front and back. This allows a constant airflow through the coop well above your chickens' heads.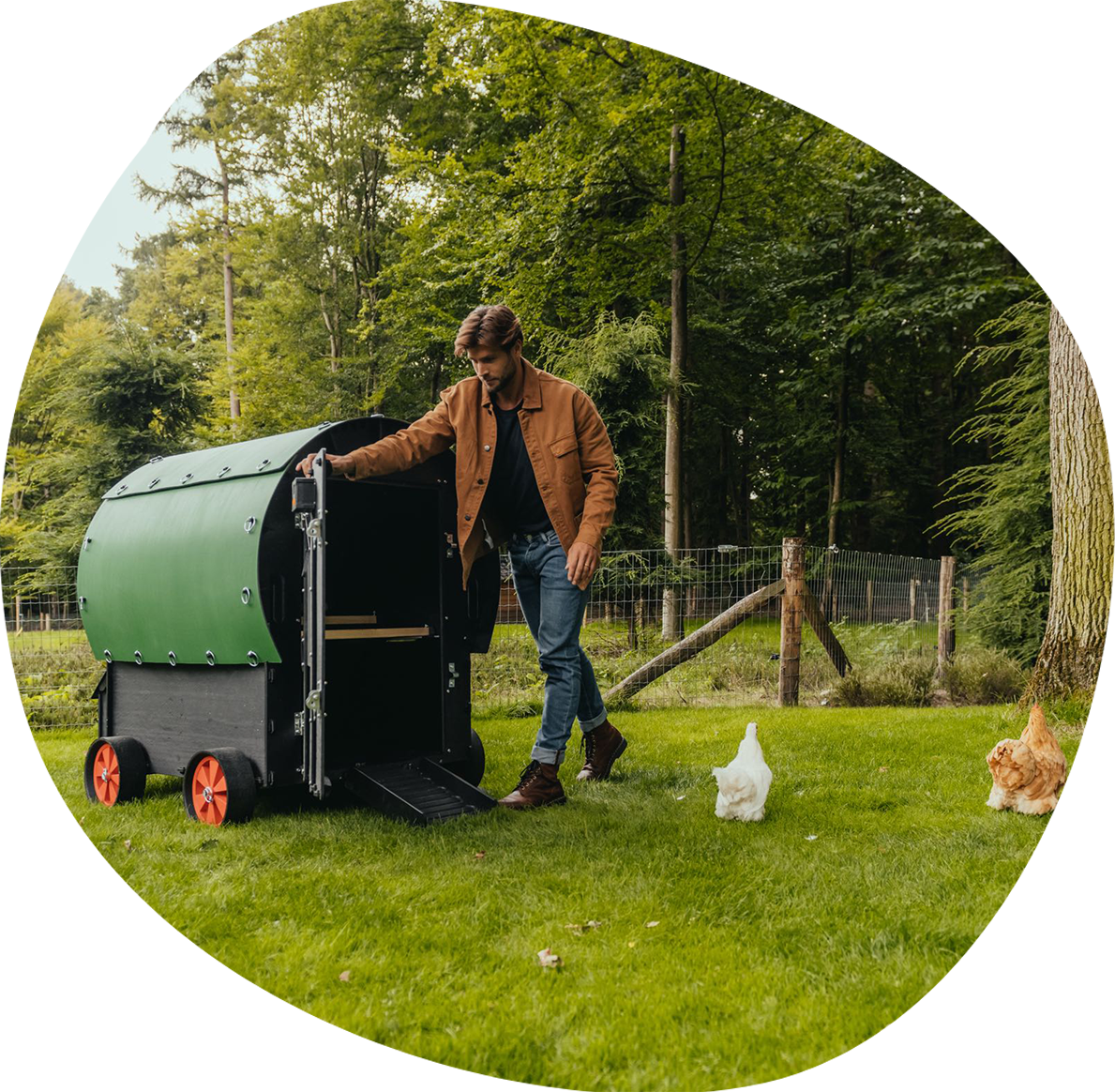 Easy Cleaning
The Wagon's smooth surfaces leave nowhere for red mite to hide, and the interior is easy to clean with nothing more than a quick hose-down. The recycled plastic dries in moments, so no more waiting for wooden panels to dry.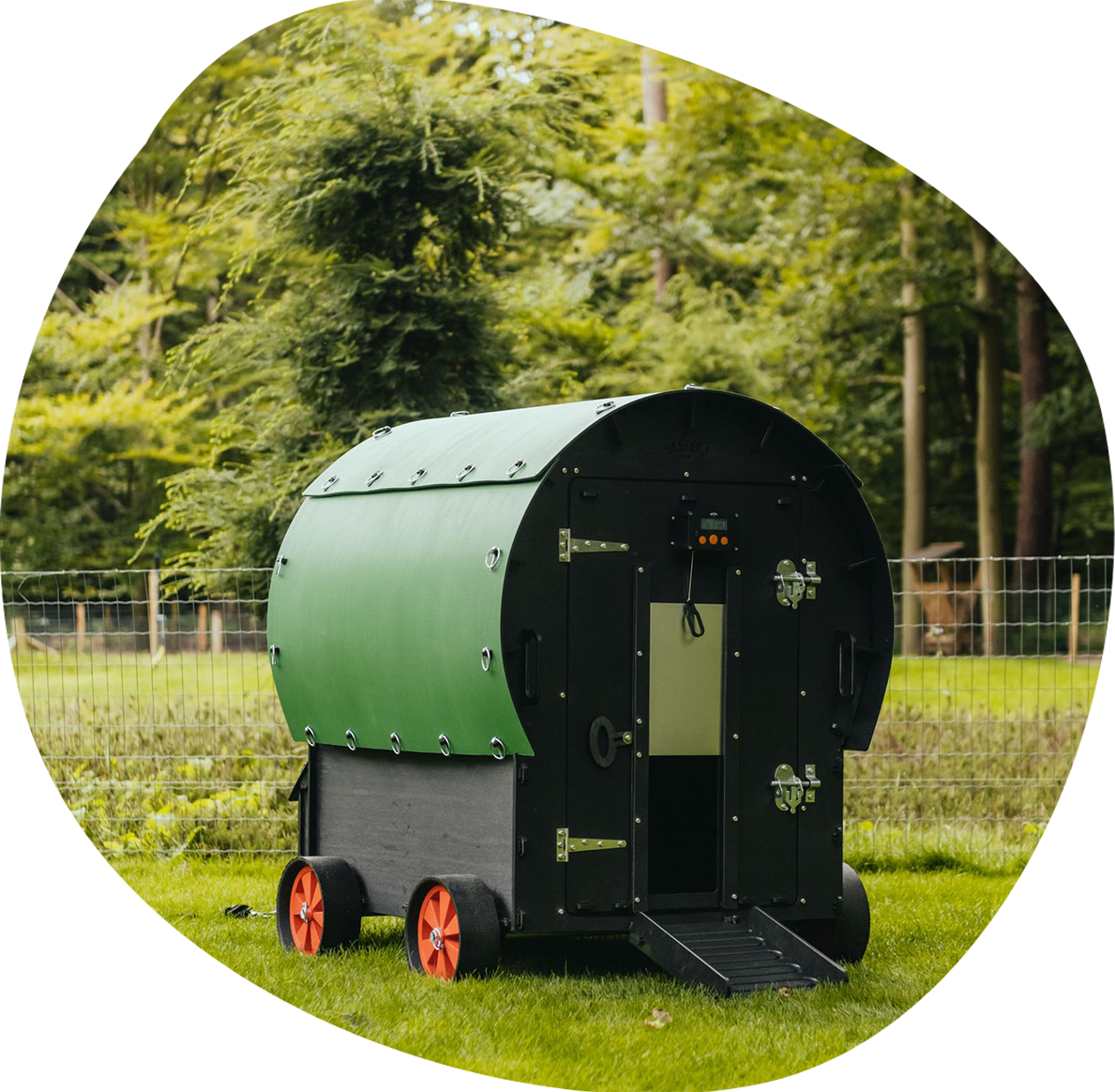 Unbeatable Durability
The Wagon's rugged appearance is backed up by its true durability. Each of its panels are made from 9mm-thick 100% recycled plastic. This minimises its environmental impact while offering a far greater lifespan than any other type of coop. The hard-wearing recycled plastic is resistant to UV and will not degrade over time. 
Iconic look
Easy to move
3 perches
Large front door
25-year warranty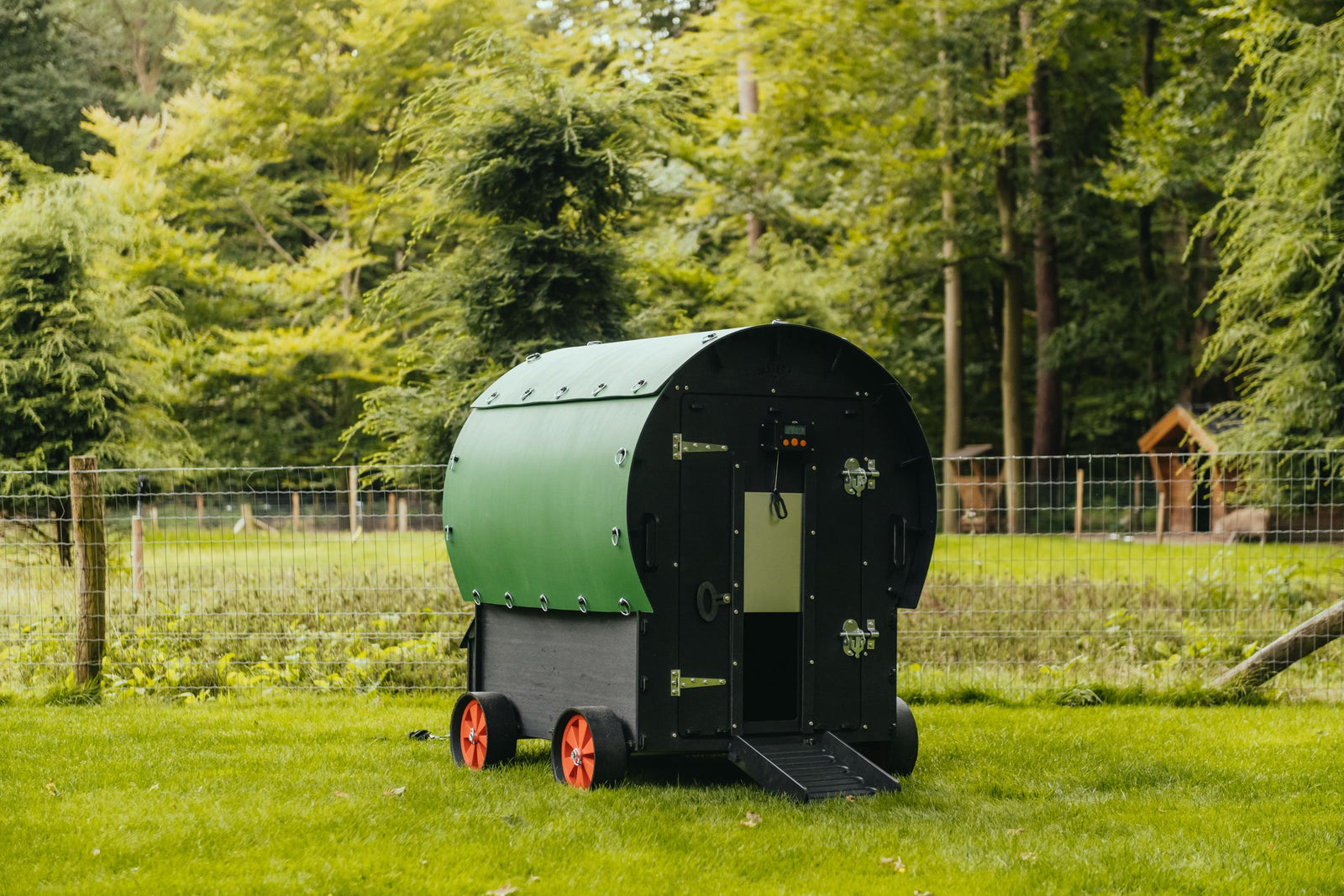 The Wagon
x8
External Dimensions
Height: 1332mm
Width: 1157mm
Depth: 1770mm (incl. ramp and nesting box)
Internal Dimensions
Width: 800mm
Depth: 990mm (excl. nesting box)
SHOP NOW
CUSTOMER REVIEWS
All very efficient, ordering, and delivery.

It took a while to get used to the assembly, but it is very sturdy and a very well designed chicken house. My chickens took to it straight away.
I needed help putting the coop together but it was very well worth it. My 4 rescue hens seem very happy in it at night and it is cosy, sturdy and very easy to keep clean. The service I have received from Nestera is second to none.
Much easier to clean and keep mite free.😊
This chicken house is simple to assemble, didn't take long and is so easy to keep clean. My chickens are warm, dry and very happy. They have lots of room and love their deep bed. This house is nice looking as well. Great service from Nestra and delivery was so quick. Worth every penny.
It didn't take my husband very long to fit all the pieces together, instructions were very helpful. My chickens love it. I purchased the large lodge for my 7 chickens, so they have lots of room to manoeuvre. I do intend on purchasing more chickens. I love that I'm able to hose the whole coop down which in turn helps to reduce mites and other infestations. My last wooden coop lasted less than 2yrs. With this one, I can't think i'll need a new coop for a long long time.